Omnitrans Student Campaign: DIY TV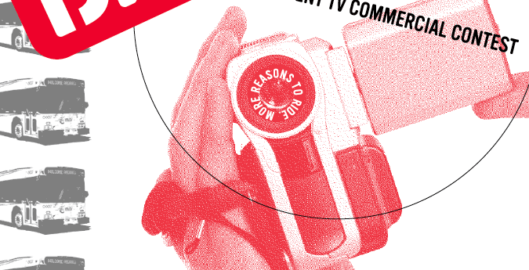 The folks at Omnitrans public transit agency in San Bernardino hired J-U to help them attract younger bus riders.
Now, everyone knew the bus wasn't exactly considered a cool ride to school, even in San Berdoo.
Nevertheless, the thinking was that an offer of "cash and prizes" might somehow persuade high school and college students to try public transportation. This was a good sign—there was a budget, however modest. 
Cash and prizes are usually good influencers. But sometimes cachet is even better.
Knowing that every good contest needs a hook, my art director partner and I added an element of "social proof" to the contest by having entrants encourage friends to vote for their spot, and share it to help them win.
We gave the promotion a catchy name: "DIY TV."
The strategy behind DIY TV was straightforward: entice students to become "brand evangelists" (buzzword alert!) by making their own Omnitrans TV commercial about the benefits of the bus to other students, for a chance to win $3000 in cash and prizes.
To win the contest, entrants uploaded their original Omnitrans video commercial and shared it with friends, who voted for their favorites. Omnitrans selected a grand prize winner from among the most popular student commercials, whose spot aired on local television.
Today the DIY TV campaign could be considered an early example of "user-generated content" (aka UGC, if you're really in the know).
Given the growing prevalence of smart phones and social networks to help spread the word, the promotion took off. In fact, it was popular enough to run for a second year.
In a way, the concept was almost too successful for the creative team—since we had effectively written ourselves out of creating next year's campaign! :/
"Hey students! Wanna win $3,000 in cash and prizes?

"Just do it yourself — make your own student TV commercial for Omnitrans. Details are at omnitrans.org.

Aaannnd… action!"
"DIY TV" Student Campaign
:30 Radio – "Director" 
:15 Movie Theatre/Cable Spot – "Handmade TV"
Not having a large budget can sometimes lead to inventive creative solutions.
Since the bus system doesn't have a lot of money to spend on big media buys or production, our answer was an attempt to turn this weakness into an advantage. So we intentionally made a "handmade," amateur-quality TV spot.
It was our visual way of demonstrating to students that they could make their own commercial, and probably do it better.
The spot played in local movie theaters and on cable.